Covid-19 has transformed everyone into a remote worker, including tech giants and small businesses. And it seems telecommuting is here to stay even after the epidemic, though it comes with its set of drawbacks.
One of the biggest challenges you can come across is unplugging from work, forgetting where "work" ends and "home" starts.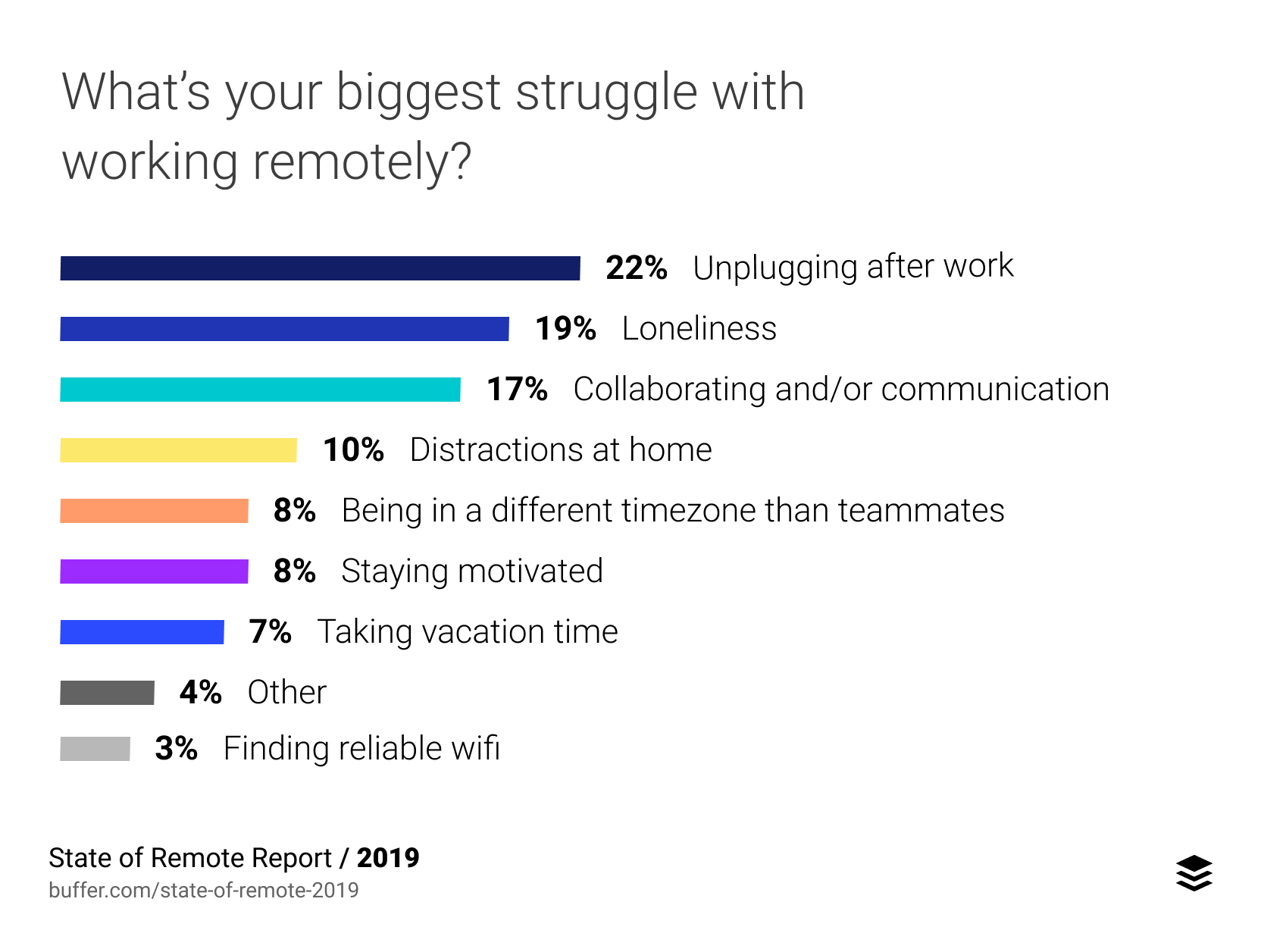 It's becoming increasingly difficult to disconnect in the present era, with an array of communication opportunities making you within reach, whilst being a remote worker. 
Though is not the case if you work at an office because of set boundaries that keep professional and personal life aloof – something Coronavirus has demolished while bringing Anxieties and stresses due to isolation.
Though COVID-19 seem like the cause uprising remote workers, the reports say otherwise. According to Global Workplace Analytics: Between 2005 and 2017, there was a 159% increase in remote work. Much before Corona took over. 
According to Buffer's state of Remote support 2019, People suggest others to become a remote worker.
Researchers took a survey of labours and found that telecommuters work more than office workers, statistically five to six hours more than the standard 40.
So, it needs to be clear that you are not hurting yourself, by continually working at home.
As researchers from Lehigh University mentions in ScienceDaily:
"As prior research has shown, if people cannot disconnect from work and recuperate, it leads to burnout, higher turnover, more deviant behaviour, lower productivity, and other undesirable outcomes."
Another study published in the Journal of Applied Psychology tells that disconnecting for work has psychological benefits, including:
Less work-related fatigue
Far lower rates of procrastination
Far greater engagement at work (and getting into a state of 'flow')
Greater work-life balance and quality of life
Greater satisfaction with their relationships at work and home
Better mental and physical health
Following is the Golden advice from James Clear, author of Atomic Habits, to help you unplug from work, and master the art of working at home.
Dedicate a Place or Condition for Each Work
Some of the best writing pieces focusing on improving your habits are the/Atomic Habits/ by James Clear. In the book, the author dives deep into human behaviour.
A gold nugget of the book is the idea that physical spaces impact our behaviour. I.e. repeatedly do something at a place, and you will subconsciously start behaving the same way every time you go back to the place. 
You can use this trick to separate your "home" work, from "office" work. 
Assign a certain behaviour to a certain place. James calls it "one space, one use." It helps to disconnect from work, instead of dragging the work elsewhere. 
If you're lucky enough to be quarantined in a house, this would work wonders. But, if you don't have enough space around, you can go with small alterations, such as, sitting on the same chair and table when browsing your feed, move the chair to a different area and assign it for writing, reading etc.
If you can't even Drag a chair at your space, there is still away. James describes a friend who does his writing on a desktop computer, reads on his iPad, and uses his phone solely for communication. 
Michels also advises to start and end your "workday" at a specific time each day. 
Rothbard conveys the idea to separate visual communications(like FaceTime) from auditory ones(like phone calls), dedicating one for job purposes, and the other for chilling with friends.  
These are the best apps for Mac, iPad, and iPhone to help you unplug from work at home:
To check your improvements, ask yourself: Are you finding yourself present when need to be present? Because, that's, what life, is all about.