Tencent Gaming Buddy is one of the most popular android emulators mainly used for heavy mobile games like Pubg to run on desktops. Though the downside for non-pc users is that it's not available for Mac. However, it's not a dead end. You can use Tencent gaming Buddy on Mac by using Windows on Mac. If not, then there are Tencent Gaming Buddy alternatives that do great on Mac.
Here are 2 of the best android emulators for your macOS.
Nox Player
Nox player was launched in 2015. If you are serious about high-performance android gaming on your Mac. This emulator can be your choice. Nox is one of the best android emulators for Mac.
And it is due to some strong factors including timely updates, regular maintenance from developers, and bug fixes.
Nox gives excellent fps and gives lag-free experience, and features such as key mapping and external controller support set it apart from other android emulators.
Being ad-free and subscription-free Nox provides a clean and friendly UI, which makes it easy to use.
Apart from these, Nox allows a strip of features on the side border including screen recording, setting your virtual machine's location or use a Macro/Video recorder from there.
Nox player allows various graphic customization options like you can enter full-screen mode, 720p, or even full HD resolution. You can also change graphic settings between Direct X and Open GL. And also allot Ram and CPU resource usage.
Price: Free
You can download Nox Player for Mac from here
BlueStacks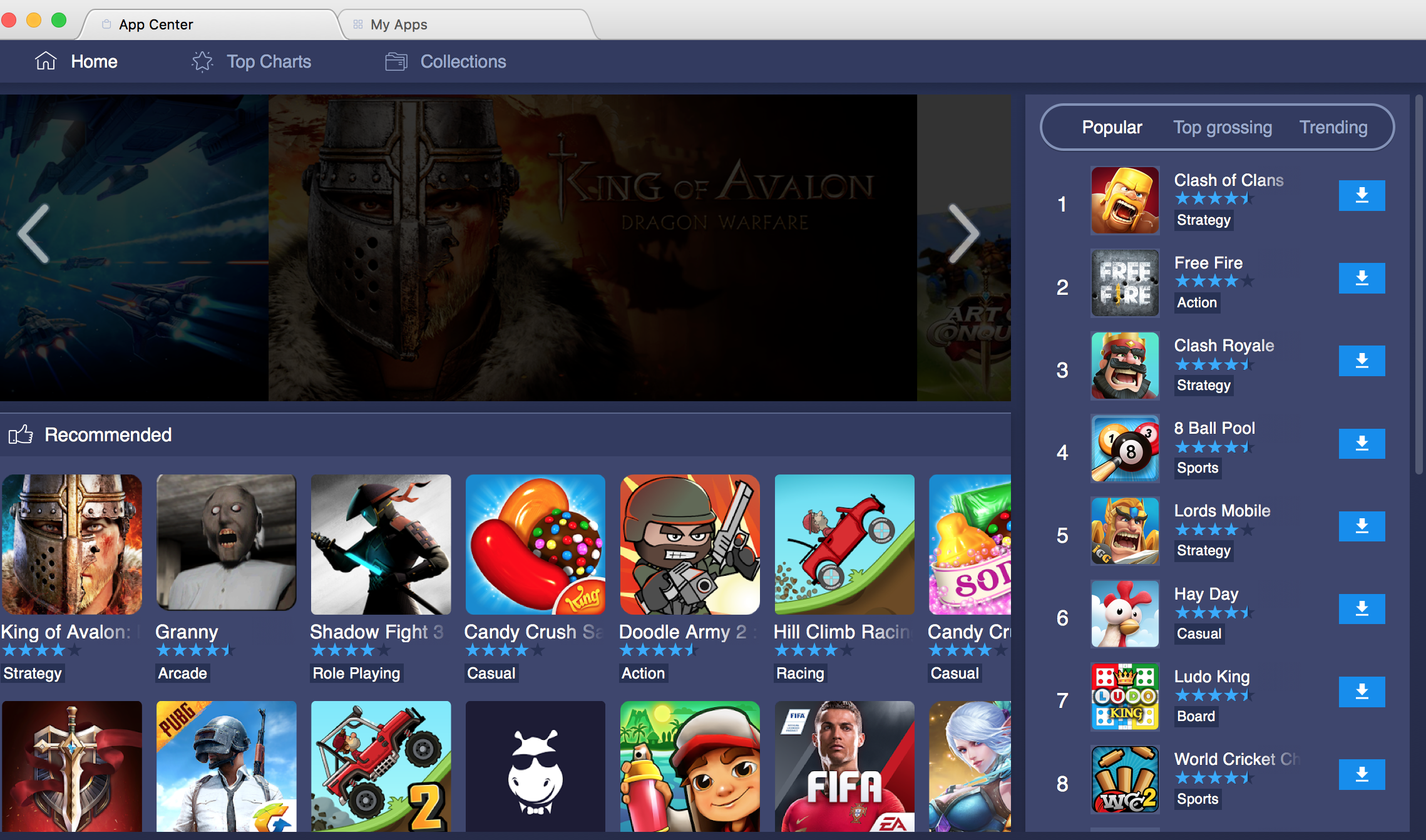 While the Nox player is an awesome android emulator with its specialties, tests reveal BlueStacks performs better. Numerically Nox player scored 121410, while BlueStacks gave a whooping 165000 in a benchmark test.
Scores tell BlueStacks outperforms the Nox player in performance. BlueStacks also provides a wealth of options like key mapping, graphics control, app shortcuts, and more.
Being a powerful emulator BlueStacks provides a lag-free experience and features that Nox player also provides. But BlueStacks also requires more ram and a high config PC to show its true power. For this reason, BlueStacks is preferred by developers who can squeeze the full potential of the software.
Additionally, BlueStacks allows sideloading of apps which means you can install apps in BlueStacks by launching it from your Mac desktop.
Price: Free (2$ for BlueStack's partner's titles)
You can download BlueStacks for Mac from here
Conclusion
While both emulators provide excellent android emulation and are an excellent alternative for Tencent Gaming Buddy for Mac. Nox Player is a more suitable option if you have an old system, heck it can even run on Windows XP. However, if you want more powerful emulation options than Nox Player, BlueStacks is the one for your Mac.